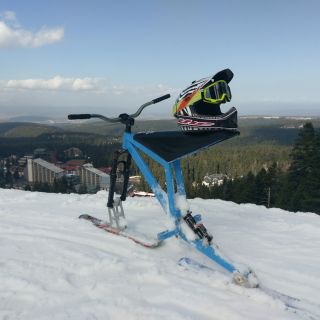 Ски байк тест
The Ski-Bike: High Performance... Maximum Control...
The Ski-Bike experience is profound. It's kind of a combination of skiing and mountain biking with a bit of motorcycle.
Exceptional balance = stability = control, the result of which is a safe, accelerated initial learning experience.
What is a Ski-Bike?
Essentially, a specially engineered bike-like device with skis instead of wheels designed to use the force of gravity to descend snow covered mountains.
Are they safe?
Yes! The inherent characteristics of the bike allow you to navigate the mountain with a greater degree of control than with other snow-riding tools. The bikes have been around Europe for 50 years and have an exemplary safety record.
Can I rent one and take lessons?
Yes, you can try a test with a profesional instructor. Borovets, offers night rides! Professional instruction and helmet usage are included.
Is it hard to learn to ride?
Due to the exceptional stability and control afforded by the 3 point stance and the low center of gravity, the learning curve is very accelerated compared to skiing or boarding. Generally, within a few runs you'll be cruising and having fun.
Is it strenuous?
It's a much more balanced workout than skiing or boarding. Because you are in a sitting position there is much less stress on your legs and knees. The fatigue factor is also considerably lessened. No more "rubber" legs.
Are they heavy?
Everyone can ride! Adult bikes generally weigh like a mountain bikes.
Duration of the ski bike test is around 1 hour, in the price of 50 BGN are included hire of ski bike, warning vest, helmet and profesional instructor.
Groups are from 4 up to 6 people.