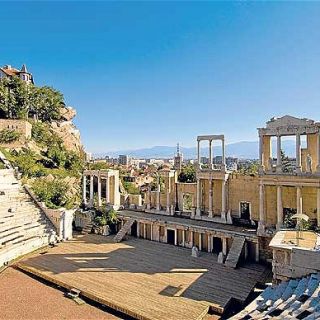 The trip to Plovdiv is will take around two hours with pre-organized transportation. You will arrive in the city under the Tepe, where you will have the opportunity to walk around the oldtown . The well preserved ancient artifacts and numerous archeological monuments attracts many tourists. The old-fashioned houses of the Revival period were built on the lush streets, which are now museums preserving the history of this stunning city. After the walk in the town we will visit the Ancient Roman Amphitheater built during the time of Marcus Aurelius. You can also see the archaeological complex "Nebet tepe" - ruins from an ancient Thracian sanctuary, the Roman stadium, which was recentlyrestored, "Djumayata" square - one of the symbols of the town, followed by free time for lunch and a walk on the iconic shopping street of Plovdiv.
Duration: All day with light walking
Price: 1-3 people 270 BGN, price for 4-6 people 350 BGN (including transport, qualified guide and insurance).