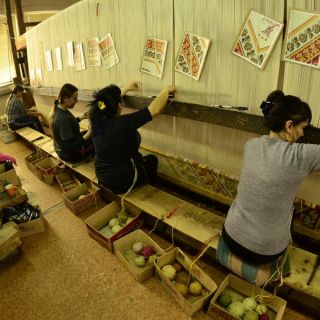 A Trip to Velingrad and Visit to a Carpet Workshop
Known as the Balkan Spa Capital because of its mineral water, Velingrad attracts tourists from all over the world. Depart Borovets with provided transport , after about 1h30 min arrives in Velingrad. We will start with landmarks tour followed by alunchbreak,then we will go to the workshop for hand-woven carpets in the village of Kostandovo. It produces incredibly beautiful works of art that are mainly exported to the UK. At present, the factory has the largest loom in the whole of Europe, which allows the weaving of a carpet with an area of ​​up to 140 sq.m. The workshop created a carpet for one of the Royal Family's properties, part of Queen Victoria's Osborne House, which was closed for visitors for a long time because it did not have a carpet in the main room! For years the royal court experts searched for company they could trust to make this important part of the interior.The carpet was a smooth fabric with an impressive area of ​​100 sq.m. In about 9 months it was ready and in 1999 the official opening of the hall was held. Since then, the royal family has ordered one carpet per year from the Kostandovo plant.
Duration: All day with light load
Price: 1-3 people 250 BGN, price for 4-6 people 320 BGN (including transport, qualified driver and insurance) .