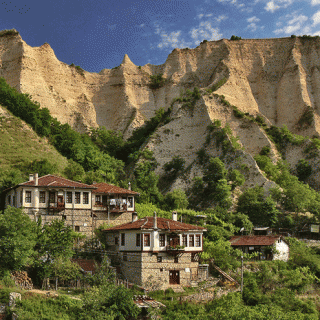 Excursion to Melnik, Rozhen Monastery and Rupite
Rozhen Monastery is one of the most interesting and important religious and cultural centers on the territory of Bulgaria. It is one of the few medieval temples that survived the present day in close to original beauty, preserving its authentic architecture. It is situated on the ridge of a high hill overlooking the peaks of Pirin and Belasitsa mountains, encircled by the famous Melnik pyramids.
Next stop is Melnik. Built in the south-western slopes of Pirin mountain , it is the smallest town in Bulgaria. It is declared a cultural and historical reserve and a town-museum. Melnik is a combination of incredible nature - rocks clustered around houses on the hills, legendary history, culture and wine. Besides the history and architecture, Melnik is famous for its Wine. In the sand pyramids that surround it on all sides are carved ancient cellars, in which the famous Melnik wine ismatured and stored. The ancient Melnik houses impress with rich architecture and cellars, revealing the Bulgarian sense of practicality and beauty. The most famous of them are the Kordopulov house (the largest on the Balkan Peninsula from the Renaissance period) with its extraordinary frescoes and a huge cellar; The Bolyar House (the oldest preserved house in Bulgaria). You will have the chance to visit the Kordopulov house andtry their wine selection.
We will continue on the Rupite route. The place has gained wide popularity because of to the most famous Bulgarian prophetess Vangelia Gushterova - Vanga.
Duration: All day with light walking
Price: 1-3 people 300 BGN, price for 4-6 people 390 BGN (including transport, qualified guide and insurance).